The Journey of Carolina Mornings - 20th Anniversary
The Leader in Western North Carolina Vacation Rentals for over 20 Years!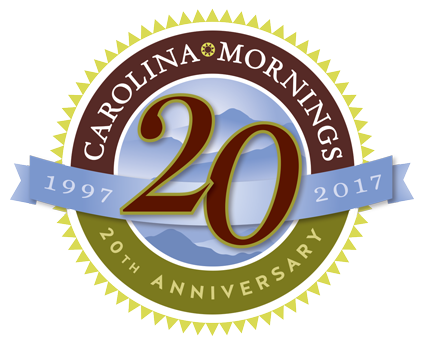 We are proud of the success of Carolina Mornings over the past 20+ years! 2017 marked our 20th anniversary, and like any major milestone, we wanted to make it special! No one could have predicted the growth and success marked by this small side-business becoming the industry leader in the region. Please join us on our journey, as we push forward into the future and the next 20 years!
Twenty years ago, when Asheville offered only conventional outlets for area accommodations, Shari Goldstein created a statewide reservations service which quickly zeroed in on Asheville as its primary focus. Working from a quaint third-floor converted attic space with the help of just a single employee and an enormous well of passion, Shari created a company that would enrich the communities of Asheville and Western North Carolina. That small and unique business has grown over the past two decades into the largest and most established vacation rental company in Asheville!
In May of 1997, the company's first website was developed and launched. By the same time the next year, Carolina Mornings was successfully managing 25 B&Bs and ten cabins in the Asheville area. As the first company in the area to represent privately owned vacation rentals, Carolina Mornings' reputation grew through word-of-mouth - and it grew quickly!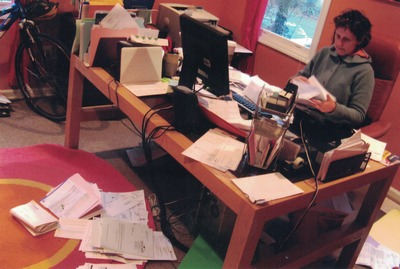 In 2001, Shari started the arduous work of becoming a North Carolina Real Estate Broker, and by 2002, five years after the advent of the company, Shari was holding her license and was also able to draw her first paycheck - a major milestone for every small business! As a newly minted broker, Shari changed her focus from B&Bs to the vacation rental market. The same year, she was also able to create the company's first full-time position: Office Manager. Ginger Boyd, one of Shari's first hires as a part-time employee, was promoted to this new position. As a testament to the success of the company's culture, Ginger is still with the Carolina Mornings Family - as the Chief Operating Officer!
2005 saw two very important developments for the budding company. First, Carolina Mornings moved out of the attic that had housed their operation for eight years and into their first rented office space. Later that year, Shari, now serving as Broker-in-Charge, made the bold decision to upgrade the property management software to Virtual Resort Manager, and began taking online reservations for rental units - a momentous and important development!
At this point in the company's journey, progress was swift. In 2006, the Property Management Department was created, marking an important shift in the services that Carolina Mornings offered to homeowners. The creation of this new department - overseeing both maintenance and housekeeping - turned Carolina Mornings into a full-service management company. Carolina Mornings' homeowners could now rest easy knowing that every aspect of their home was being tended to and that their properties would remain in peak condition.
Did you know? 2007 was the first year Carolina Mornings won the Asheville Chamber of Commerce's "Sky High Growth Award" - starting a trend that has lead to 8 awards over the next 10 years!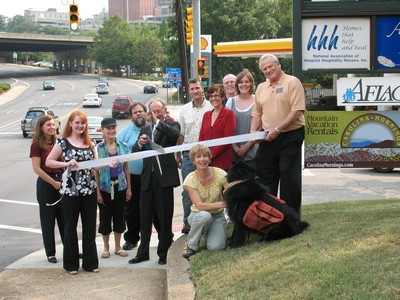 Continuing forward on an exciting trajectory, 2007 saw some immense progress within the company. Carolina Mornings relocated to downtown Asheville, which is still home to the company's operations today, and Katie Smart-Sundmacher joined the company as a licensed real estate broker and vacation planner. Larry Miller was also hired to fill the newly created Director of Property Management position, which demonstrated the growth of the company in the area of property management services. This year also marked a significant milestone in the number of reservations made - 1,000 vacation rental reservations using the new property management software!
In 2008, Ginger was officially promoted to the Chief Operating Officer of Carolina Mornings - marking a major move for the company. Unfortunately, just a short while later, the country experienced a financial crisis unseen since the Great Depression. The crash deeply affected the company. To survive the crisis, Shari pared the company back to just six employees. Over the next few years, the team worked frugally to maintain the company's standing in the community. Despite the state of the economy, Carolina Mornings saw an increase of reservations - jumping from 1,000 to 2,500.
By 2011, Carolina Mornings was once again making momentous developmental changes. The company saw its reservations hit the 10,000 mark, and Shari made the call to implement an integrated lead management software called NAVIS to assist with day-to-day business operations and guest communication. This software continues to be utilized by the Reservations Department.
We take our reservations seriously!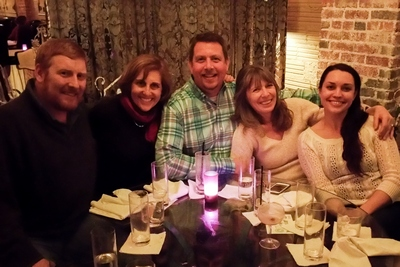 The next year, Carolina Mornings brought the Scenic Wolf Cabin Community into the program, thereby growing the portfolio by 31 cabins. This expansion opened the company up to a larger area footprint, and solidified its position as the leading vacation rental company in Western North Carolina. Carolina Mornings once again saw the total number of reservations make a significant leap - over 15,000 vacation rental reservations had passed through the Reservations Department.
This same year, a new full-time sales and marketing position was created and Gay Weber joined the team to fill the role. Over the course of the next two years, he worked to build the company's online and community presence, bringing Carolina Mornings to the top of the local search results, turning the website responsive, and forming partnerships with other local businesses. Today, Gay serves as Chief Marketing Officer, overseeing the Reservations Department and continuing to strengthen and expand the Carolina Mornings brand and reputation. Since this addition, Carolina Mornings' growth has rapidly increased, passing 30,000 total reservations in 2016, with over 3,600 new reservations completed per year!
Mr. Weber insists that it's not about the numbers, though. "I'd like to stress the point that our incredible growth is merely a reflection of us taking pride in what we do. We're a business that specializes in people, and that's where the real results are. Our guests, our property owners, our community, and our team make us successful. If any part of that equation were to fall out of harmony, it simply wouldn't work."
- New Standards are being Set in the Asheville Area's Short-Term Rental Market, July 30th, 2015, PRLog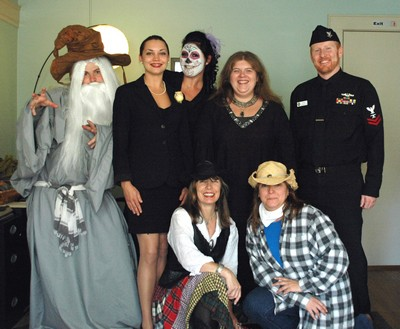 By 2015, Katie officially moved into the role of Director of Owner Relations, marking an exciting advancement in the company's relationship to its owners. With Katie's guidance and dedication, Carolina Mornings has deepened its relationships with homeowners. As a thoughtful and caring "personal guide" through the on-boarding process and beyond, Katie inspires feelings of confidence, comfort, and excitement. Much like Ginger's growth within Carolina Mornings is a testament to the company's culture, Katie's journey into her current position of Director of Owner Relations is a testament to the company's focus on seeing its employees grow into the impressive forces of professionalism that form the basis of a solid value system.
As Carolina Mornings continued to grow, so did the need for additional oversight. In 2016, Ashley Swanger was hired to fill the role of Regional Director of Property Operations. This position was duly needed as Carolina Mornings' property management service had grown from five to 85 homes over the years, and the logistics of managing 85 homes spread throughout the region called for a new high-level solution. Ashley Swanger filled that need and is an integral part of the company's expansion plans for the future!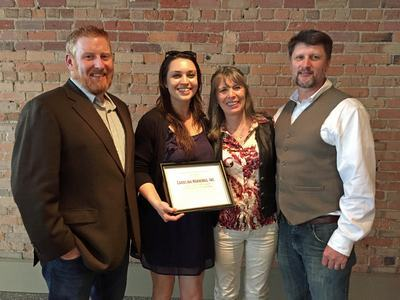 2016 marked another important milestone for Carolina Mornings, as the company rolled out its charitable giving program, called "Stay For Good." Through this innovative program, Carolina Mornings is proud to give a portion of its profits back to local, regional, and national communities. The Stay For Good charitable giving program is unique in that it invites Carolina Mornings' guests to help in the process; providing opportunities for additional giving, as well as deciding which charities to focus on each year! During the inaugural year of giving, Carolina Mornings donated over $2,200 - and is on pace to donate over $3,500 in 2017!
Nothing rewards hard work like recognition, and Carolina Mornings has received plenty of it over the years. Not only do guests and property owners alike share their delight with us (read the testimonial pages!), but even the City of Asheville has recognized it. Carolina Mornings was the proud recipient of the Asheville Chamber of Commerce's Sky High Growth Award in 2007, 2008, 2010, 2013, 2014, 2015, and 2016! Additionally, we just earned it again in 2017, as the company celebrates its remarkable journey to this twentieth year anniversary!
Additionally, Carolina Mornings has made major contributions to the vacation rental industry in Asheville, as well as in North Carolina as a whole. Achievements include:
Throughout the years, team members have served on the board of the North Carolina Vacation Rental Managers Association (NC VRMA).

Carolina Mornings has remained proud members of the national Vacation Rental Managers Association (VRMA), and Shari currently sits on the membership committee for her third year.

In 2011, Shari helped to develop the first eco-friendly program for vacation rentals in North Carolina. Working with the Director of Green Travel for North Carolina, Shari's suggestions and insights were instrumental in creating the NC GreenTravel designation for vacation rental properties, and are still in use today!

In 2014, Gay sat on the Travel Development Authority's panel to represent the vacation rental market during the TDA's research/implementation of a new website and booking engine.

Carolina Mornings has proudly worked with pioneers who are creating innovations in the industry, such as virtual check-in packets (saving paper and postage), guest texting technology (increasing ease of contact), noise monitoring equipment (protecting homes and neighborhoods), and 3D virtual reality tours (exceeding guest expectations)!

Carolina Mornings is proudly the largest dog-friendly vacation rental company in Asheville. There are usually one or more dogs working alongside their owners in the office every day!

In twenty years, Carolina Mornings has grown from a small office with four part-time employees to employing over forty full-time employees in the Asheville area!

Carolina Mornings continues to represent the best interests of vacation rental owners by working with the North Carolina Real Estate Commission to enact changes in regulation, enforcement, and application of governing laws.
From the director of NC GreenTravel in 2011: "I took your recommendations regarding criteria for vacation rentals to become recognized as sustainable properties in our NC GreenTravel Initiative and blended them together with our standard lodging form to come up with the attached application. Please have a look and let me know what you think. I have also sent it to our partners for review. Once I hear back from you and our partners I will create the final form to publish. I am excited about getting this part of the project rolling. Thanks for all your helpful insight."
The future is bright for Carolina Mornings, our property owners, and our guests - and we're excited to share it together!