Carolina Mornings Guest Loyalty Program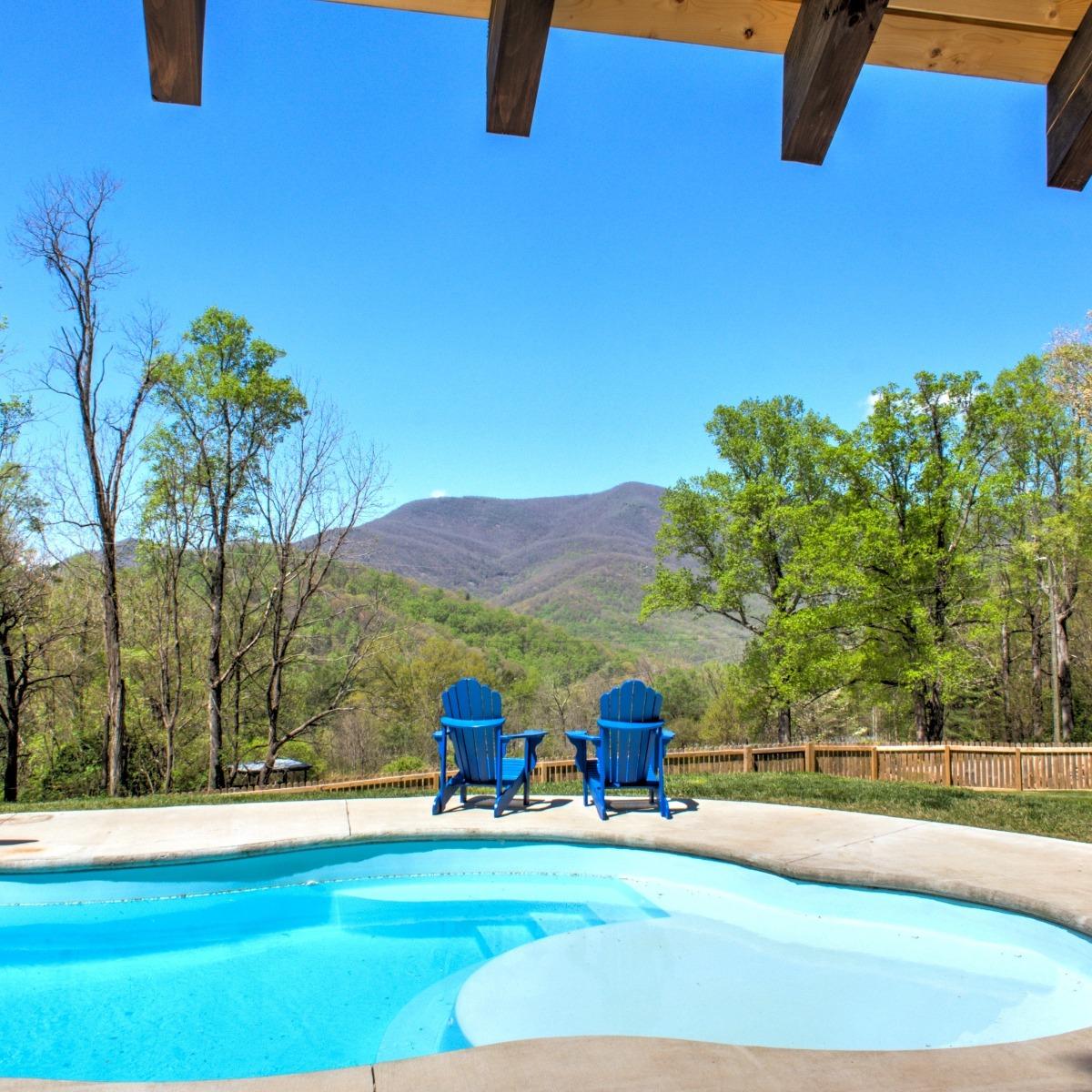 The mountains of Western North Carolina provide the ideal escape from every day life, with countless activities in and around Asheville, NC. Our guests frequently enjoy visiting the Biltmore, enjoying our Mountain Discovery Pass, hiking, shopping, skiing, fine dining and more.
Carolina Mornings is pleased to announce that our beautiful Blue Ridge Mountains will be even more desirable for visitors with our new Guest Loyalty Program! Under this program, our guests earn perks at our vacation rentals in and around Asheville that increase in value the more they stay with us! Details on the program can be found outlined below.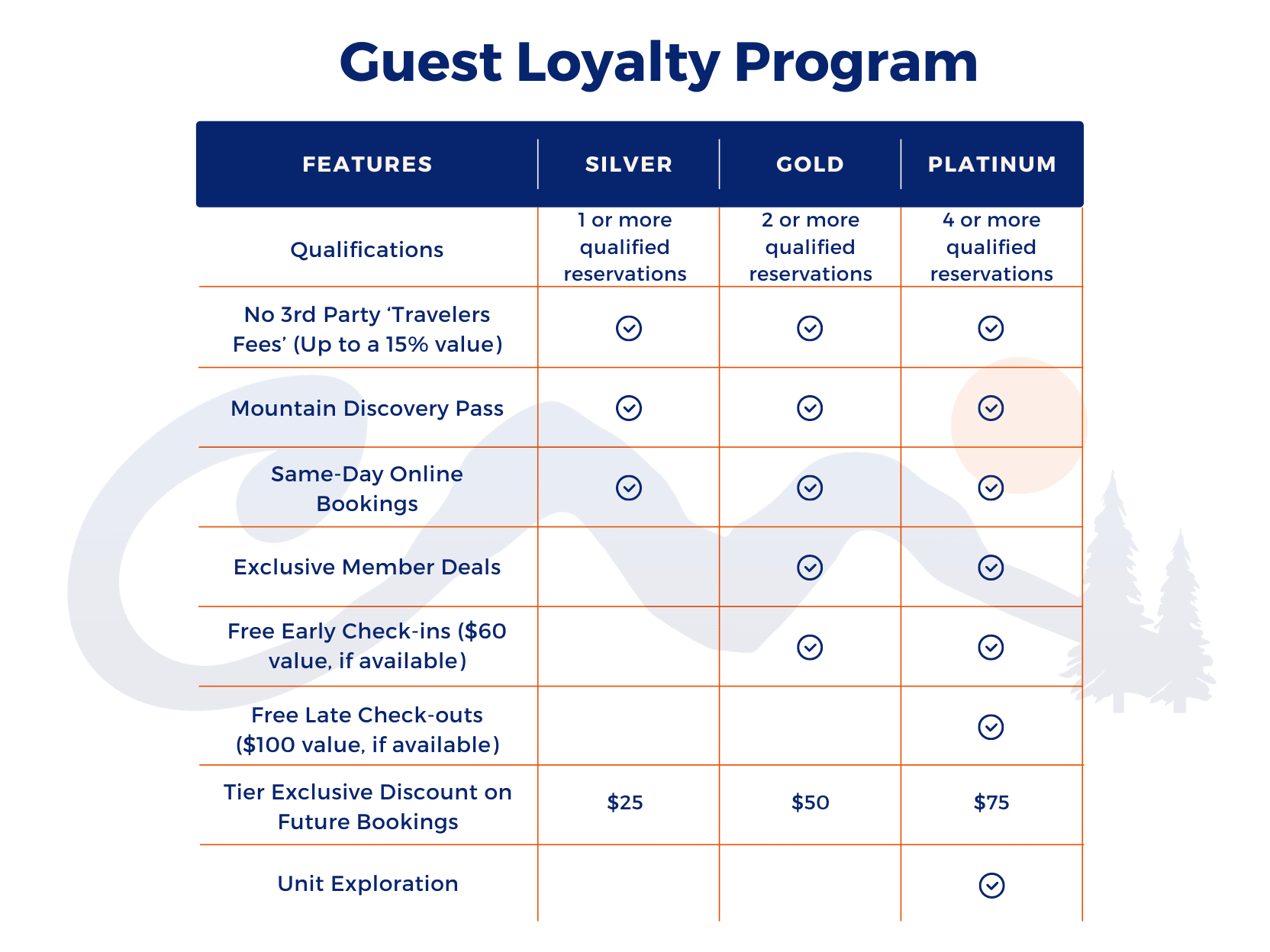 *To use future booking discounts, stays must be made 30 days or further in advance. Discount cannot be applied with other offers, must be applied at time of booking, and bookings must be made directly with Carolina Mornings.
** Explore new and existing units in our program! Platinum tier members have a first come, first serve opportunity to visit newly listed homes and existing homes. A 50% discount to rent is offered for the first booking on eligible homes. Conditions apply. Please inquire for more details.
Guest Loyalty Program FAQ
How do guests qualify for this program?
Guests qualify for the guest loyalty program if they have at least one reservation at a Carolina Mornings vacation rental which has departed in the last four years. Benefits are tiered, and are based on total qualifying reservations booked in the past four years.
What is a qualified reservation?
A qualified reservation is a reservation booked using the same first name and email as prior reservations, that has departed in the past four years. Canceled reservations do not count as a qualified reservation. If a guest's tier status changes they will be notified of the change and new benefits via email once per month.
How do guests use a program benefit?
To redeem a benefit, all stays must be booked directly with Carolina Mornings using the same first name and email as prior reservations. Some benefits and perks will be in the form of exclusive email offers and discounts, which can be redeemed by guests online. Other benefits and perks, such as early or late check outs, require reservation agent assistance.
How are guests aware of their loyalty tier, and any tier changes?
Carolina Mornings will reference the guest tier periodically in our regular marketing email blasts. Gold and Platinum tier guests will also get a loyalty program specific email with exclusive member offers, and all guests will receive a special email any time a new tier is achieved. If a guest is uncertain on their eligibility, we invite them to call us at (855) 398-0712 to discuss. Our agents are able to reference any name and corresponding email address, and confirm what tier and benefits a guest has available to them.
When a tier changes, Carolina Mornings will send out an email to the guest signaling the tier that has been achieved and the new benefits available to the guest.
If I'm a new guest & book a stay in the current year, when am I eligible for 'Silver Tier'?
Once a guest qualifies for a tier, they will receive a special email confirmation of their change in status. The benefits of the tier are available for guest usage as soon as the guest qualifies for them.
What do you mean by 'No Traveler Fees'?
All guests save by booking directly through CarolinaMornings.com. Third party websites like Vrbo and Airbnb charge 'Travelers Fees', which can run up to 15% of the total reservation cost on those channels. These channels are often priced higher than CarolinaMornings.com in addition to the Travelers Fee due to the costs associated with listing on the channel. We guarantee guests will always have the best price at one of our rentals by booking directly.
If I booked on Airbnb, Vrbo, or another third party do i qualify for benefits?
To qualify for the guest loyalty program, we must have a full name and email address on file for your prior stay(s). Certain sites, like Airbnb, use routing emails for guest stays. To ensure that you're credited for all stays we encourage third party guests to confirm their true email address is on file with us.
In addition to ensuring a good email is on file, to redeem the many benefits of the guest loyalty program, guests must book directly with Carolina Mornings. Not only do guests save a significant percentage by booking direct but they're also eligible for great perks via our loyalty program, including early check-ins, late check-outs, repeat stay discounts and more. Book direct with Carolina Mornings loyalty program and save on your next trip to the mountains!
How do I redeem my Early Check-In or Late Check-Out requests?

Early Check-Ins and Late Check-Outs are only available upon request within 24 hours of either arriving (in the case of an early check-in) or departing (in the case of an late check-out). Due to the nature of vacation rentals often booking very last minute, we cannot honor requests earlier than this. We can never accept a request if another guest is departing the same day as your arrival, or arriving the same day as your departure, as we require all of the time between one check-out and the next check-in to prepare the home. We will do our best to accommodate this benefit when available, but we cannot honor every request. Thank you for your understanding!

What is the Mountain Discovery Pass?
The mountain Discovery Pass is an exclusive program available for Carolina Mornings guests at eligible properties in our program. The majority of our homes offer this program, which gives exclusive discounts to activities in and around Asheville, NC. For more information, visit our Mountain Discovery Pass webpage here.
This program is offered by Carolina Mornings, Inc at our discretion, and may change without notice at any time. Guests may be removed from the loyalty program at Carolina Mornings sole discretion for reasons such as damages, leaving properties in a poor condition, disparaging reviews, etc. The loyalty program has no value in and of itself, and is unable to be transferred or sold by loyalty members. Carolina Mornings loyalty program is open to the public as long as they meet our loyalty criteria outlined. Discount codes associated with the guest loyalty program must be redeemed at the time of booking, and must be booked directly on Carolina Mornings website or over the phone with our reservation department.