Leaf Season Planning Guide for Asheville, NC
While no one can perfectly predict the leaf season each year, the guide below is a good starting point for planning! There are many variables that affect the foliage including daily temperature, amount of rainfall over the summer, early-or-late seasonal changes, etc.
Many visitors may stress over the perfect time to come each year, which can be compounded by the fact that you won't know the "perfect time" until it arrives. That means a last-minute scramble to find a place to stay. This often leads to sold-out weekends where travelers are disappointed that they can't find a place to stay, or they end up staying in less-than-desireable motels because it's all that's left.
Our recommendation is to plan early, and resolve to enjoy yourself and experience the breathtaking beauty of the area no matter when you come. There is never a bad time to visit Asheville, so use the guide below to target your favorite time of the season... reserve early to get your first pick of places to stay... and enjoy a fantastic trip to the mountains!
First Week of October
5,000'+ Elevation
Leaf season starts at the highest elevations first and works its way down to the valleys.
Secret tip: A great time to beat the crowds, plan to spend time hiking along the parkway at the tallest areas such as Mount Mitchell and Craggy Gardens.
Great Places to Stay: Choose your favorite place in Asheville to stay, and plan to drive to the tallest peaks for hiking among the beginning of the color change. Our
interactive map
will help you choose!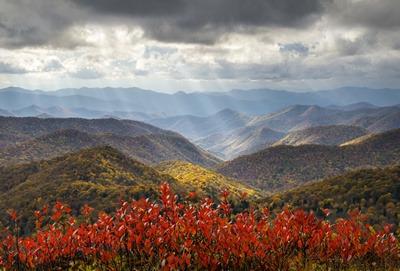 Second Week of October
4,000'+ Elevation
As the colors work their way down the mountain, the peaks will be showing beautiful colors.
Secret tip: Early leaf season is a local favorite because the upper mountains are ablaze in color and the valleys are still green... the whole color spectrum is visible!
Great Places to Stay: Our
Scenic Wolf cabins
are a collection of 23 luxury cabins perched at 4,300' with 70+ mile views! To top it off, almost every cabin has a private hot tub on the back deck which is a perfect place to relax while taking in the views.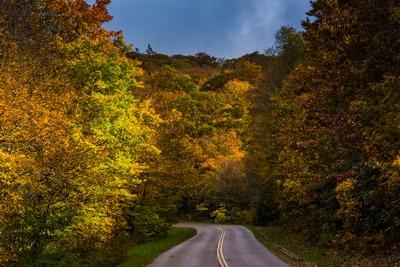 Third and Fourth Weeks of October

2,000'+ Elevation
Usually regarded as the peak of color in and around Asheville, this is a favorite time to come.
Secret tip: This is also the most sold out time to visit. If you don't already have a reservation, book now.
Great Places to Stay: It's hard to pick a place in or around Asheville that won't have amazing views of fall foliage... and it's equally hard to find last minute availability.
View all of our properties
to start picking your favorite.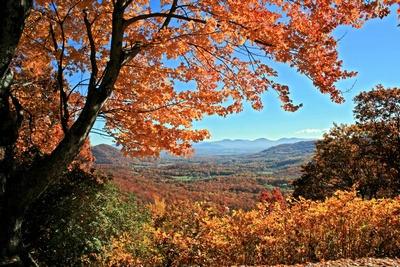 First Week of November

1,000'+ Elevation
As the season comes to an end, the lowest areas of WNC enjoy the last of the color.
Secret Tip: Chimney Rock and Lake Lure are between 1,000' and 1,200' feet in elevation. Plan to make a day trip out to this area to enjoy the last of the fall colors!
Great Places to Stay:
Stairway to Heaven
is nestled near the entrance to Chimney Rock State Park, and should give great color options from late October all the way until the end.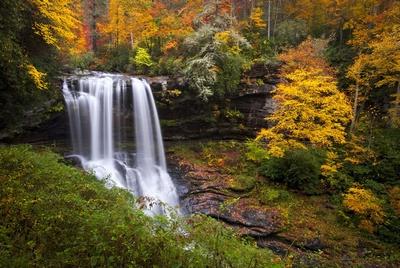 Please note that all of these time frames are approximations and are not exact. No one can predict or guarantee when the colors will appear, nor how long they will last. After having lived in the area for many years we have a good grasp on when to expect them, which is represented in this guide. We hope this is helpful in helping you plan ahead for your trip to the mountains!