Fall Fun Planning Guide for Asheville, NC
enjoying the Mountains of Western North Carolina all year long!
Western North Carolina is a special place to visit no matter the season, but the Autumn brings with it the incredible burst of seasonal color. Travelers from all over the country travel to our mountains to experience the beauty of Leaf Season. Read on for an introduction to some of our favorite ways to spend Fall days!

Things To Do:
Area Hikes
Scenic Drives
Festivals
The Biltmore Estate
Seasonal Brews
Mountain Adventures
Where to Stay
Fall Foliage Planning Guide

Area Hikes
Every year, every season, the Blue Ridge Mountains draw thousands of visitors looking to experience the majesty of our hiking trails. Autumn is a particularly note worthy season because of the art show of color that our thick foliage creates. Beginning in September, the leaves begin to tint to orange and red, and by the end of November, it's a color sensation. There are hundreds of hikes that showcase this change, and we've highlighted a few of our favorites below!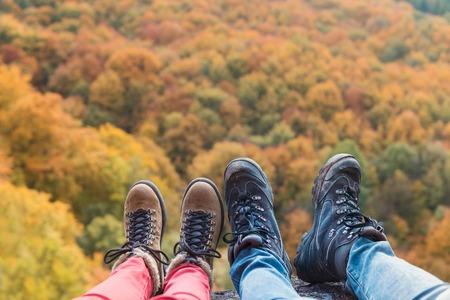 Hickory Nut Falls Trail is located in
Chimney Rock State Park
- just 25 miles from Asheville, NC. We love this hike for several reasons, but its accessibility to hikers of all levels ranks near the top. The trail itself is wide and gently sloped and it leads to the base of the 404 foot Hickory Nut Falls waterfall - one of the most popular attractions in the park. All in all, it's about a 1.5 mile loop trail and it's rather shady - making it a great choice for those hot Fall days!
To get to Chimney Rock State Park from Asheville, follow I-240 East to Exit 9 for Highway 74A East to Bat Cave. Follow Highway 74A and Highway 64 to Chimney Rock Village. The Park entrance is located on the right. A trail map from the visitor's center will indicate the trailhead.
Rough Ridge is a short hike with a big payoff. Breathtaking views of Grandfather Mountain and Linn Cove Viaduct can be enjoyed at the end of a short uphill hike from the Blue Ridge Parkway Milepost 302.8. All in all, the hike is just under 2 miles round trip. The summit at Rough Ridge is 4,773 feet in elevation, and the expansive, sweeping views of the mountains and valleys in the distance are best enjoyed during the fall season, when the leaves are a swirl of color.
To get to Rough Ridge, head to Milepost 302.8 on the Blue Ridge Parkway. There is an easily accessible parking area, and the trail starts just to the right of it. Turn left on the trail when you reach the intersection with the Tanawha Trail, following the sign toward Linn Cove. Cross the bridge over the creek and climb through the woodlands to experience the views from the boardwalk. Please note, this climb can be strenuous and often muddy!
Scenic Drives

Hiking is just one of the many ways that visitors can experience the visual delight that is leaf season. We're so lucky to have the many scenic byways winding through our forests and hills, and driving along them is an event in and of itself. A few of our favorite routes are spotlighted below!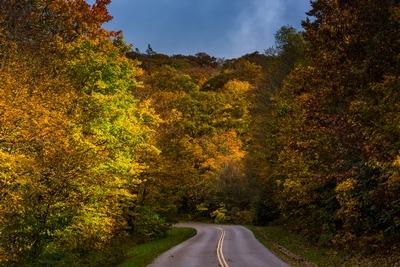 Blue Ridge Parkway
The Blue Ridge Parkway
is a treasured area resource for so many reasons. Hundreds of pull-offs for overlooks, picnic locations, and hikes are available to travelers creeping along the 469-mile winding road, and the perfect photograph is always around the next bend. Expansive vistas exist in both directions on the Parkway, so no matter the direction you choose, you'll be rewarded with breathtaking views! Plus, the parkway connects two of the most treasured national parks in the nation - Shenandoah and Great Smoky Mountains - so the final destination is a handsome reward.
Forest Heritage National Scenic Byway
The Forest Heritage National Scenic Byway is a stunning 76-mile mountain loop drive through the Pisgah National Forest that spotlights some of the most popular natural attractions in the area, including Looking Glass Falls and Looking Glass Mountain. We love that it's so easy to jump on and off the byway - or, if you're looking to have the full experience, the loop drive only takes about 2 hours when moving at a moderate pace. We recommend picking up the route in Brevard, NC - US 276 is to the right just as you enter the downtown area.
Tail of the Dragon
Motorcycle riders looking for the ultimate curvy mountain road need to look no further: the Tail of the Dragon (also known as "Deal's Gap") is a famous section of the US Highway 129 that follows the southwest boundary of the Great Smoky Mountain National Park. 318 curves over 11 miles makes this an engaging experience for motorcyclists. As with all of the scenic byways in the area, this is a route meant to be experienced slowly! While there are no intersecting roads on the 11 mile stretch, the many hairpin turns are dangerous if taken recklessly. So take it easy and enjoy the ride - and get a souvenir sticker or patch at the general store to prove you rode it!
Festivals

We've said it before, and we'll say it again - Southern Appalachia knows how to throw a great festival! Special events are spread throughout the year, and the Fall season is no different. Dozens of fantastic local events are available to the visitors that travel our way from September to November, and all of them are a hoot! Be sure to check out the ones highlighted below, as they always promise a heap of fun!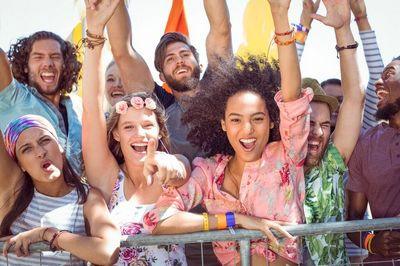 NC Apple Festival: September
The North Carolina Apple Festival
takes place every year in our apple epicenter, Hendersonville, NC. Over Labor Day Weekend, hundreds of locals and visitors alike gather in the Historic Downtown to celebrate all things apple and all things Autumn. This four day celebration has community at its core, and local live music can be heard from every corner of the small mountain town. Be sure to have at least one apple cider doughnut - you won't be sorry!
NC Mountain State Fair: September
The North Carolina Mountain State Fair
is a 10 day event that sees at least 180,000 attendees every year! It takes place in the middle of September - widely believed to be one of the finest months to spend in the mountains - and it celebrates the people of Appalachia, agriculture, fun, food, and local tradition. The fair is held in Asheville, not far from the Asheville Regional Airport, making this event accessible for all!
Brewgrass Festival: September
The Brewgrass Festival
is Western North Carolina's celebration of our thriving craft beer scene. It's been a staple of WNC life for over 20 years and it offers its attendees an opportunity to sample some of the very best brews from some of the very best breweries in the area. Over 55 breweries will be represented. Bluegrass and other Appalachian sounds will serenade you as you explore the deep, whirling well of local flavor. Trust us, you won't want to miss this event!
Oktoberfest: October
Oktoberfest
is a super fun event in October when Asheville transforms into a Little Germany - complete with Bavarian food and traditions! This is a celebration of German culture at its heart, but it's also an opportunity for beer aficionados to celebrate the strong traditional German brews that many of our local breweries make. This is an outdoor event in Pack Square Park; attendees can expect to play lively traditional German games, dance to traditional German music, and sip on traditional German beverages!
Ciderfest: October
Ciderfest
is an event put on by the WNC Green Building Council and it is a celebration of America's oldest brewing traditions. The event location changes with every year, but the fun of tasting local concoctions and listening to local bands always stays the same. Over 1,000 visitors and locals gather together to celebrate local agriculture and business, and every year this event gets more and more exciting!
LEAF Festival: October
LEAF Festival
is an annual event that takes place in Black Mountain, NC. A wildly popular festival, LEAF promotes global and community togetherness, art, and music. Spontaneity is at the heart of this event - festival goers often create their own micro-events within the confines of the larger festival, and there is always a strong sense of togetherness tying it all together.
Biltmore Estate

The Biltmore Estate
is a year round area draw, for many, many reasons. Fall is a great time to visit the Estate as it promises morning fog, warm afternoons, clear nights, and colorful blooms. Starting in September, the leaves start to slowly change to a warm colors and the mums go into the vast planned garden just a short stroll from the house itself. Strolling the manicured paths can be a wonderful way to spend a warm afternoon, and prime picnic locations can be found around nearly every corner.
Touring the Mansion will whisk you back to an era of wonder and glamour - seasonal decor creates a fully immersive experience, as though you're arriving to the home for an event in the early 1900's. We recommend setting aside at least an hour and a half to slowly make your way through the home. Surprises await you in every room - from the floor to ceiling velvet wallpaper, to the 1500's Flemish Tapestries, to the subtly hidden panels and doors in the large dining and sitting rooms. A tour of the home is always interesting, and fresh details will reveal themselves with every visit.
Finally, a visit to the Estate would be incomplete without a a meal at one or several of the fantastic on-site restaurants. Most offer seasonal fare, often harvested from the Estate gardens, so the meals are always fresh and exciting representations of the seasons
Seasonal Brews

One of the many popular monikers for Asheville is Beer City, USA - and for good reason! We have over 20 breweries located in and around Asheville, each one boasting its own delicious take on a seasonal beverage. While we couldn't possibly feature them all, there are a few that we hold near and dear to our hearts. We've put a spotlight on them below.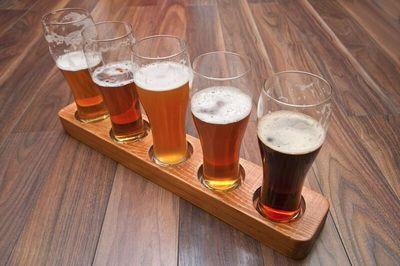 Hi-Wire Brewing
Hi-Wire Brewing
is a local favorite for many reasons. We love that they feature local art on their packaging, place a lot of emphasis on creating drinkable, approachable beers, and that they never, as a rule, take themselves too seriously. They also build their company around the philosophy of taking care of the community to which they belong, which we, as a local company, stand behind and try to promote as thoroughly as we know how.
Their seasonal brews are ever changing, as the brew masters are always experimenting, but we recommend keeping an eye out for the Fall Rye IPA and the Zircusfest Lager.
New Belgium
New Belgium Brewing
is not an Asheville native, but in 2016 they became a member of our community in a big way. Since building the brewery along the river in the Rivers Arts District, local excitement for the tasting room as been, ahem, brewing. They are now open, and hundreds of visitors flock to the large "Liquid Center" every week to sample the delicious products that they roll out. One of our favorite Fall Seasonals is the Pumpkick, which is available from August to October.
Sanctuary Brewing Company
Sanctuary Brewing Company
sits just outside of Asheville, in Hendersonville, NC. It is very near and dear to our hearts because it promotes an exceptional philosophy of social and environmental responsibility. A nano brewery and tap room, Sanctuary rolls out phenomenal beverages all year round and a large portion of all proceeds goes directly to local animal shelters and advocacy groups. They play a huge roll in the local community and in doing so, they make us all better. Oh, and did we mention that they're always pet friendly? Bring your four legged best friend and get to know the locals!
Noble Cider
Noble Cider
is an amazing cider brewery located in Asheville, NC, and we absolutely love the beverages that they create! They use all fresh fruit (locally derived!) with no artificial flavors or ingredients, and the result is positively delicious. Fall is all about apples and warmth and friends, so what better spin on that tradition than to head over to Noble's local tasting room with your loved ones? Any cider that this company makes is guaranteed to impress, but their Fall Seasonal is just out of this world! Keep an eye out for "The Journeyman" this Autumn - you won't be disappointed.
Mountain Adventures
An Asheville area guide could never be complete without mentioning the many resources we have that support mountain adventures. Hiking is for everyone, but the adrenaline rush that comes from soaring through the tree canopy on a zipline tour, or getting soaked to the bone on a whitewater rafting trip, is for a select few who look to live life on the edge! There are many dedicated companies that devote themselves to creating the perfect mountain adventure for visitors and locals alike, and to help our guests experience the most of the area,
Carolina Mornings
has teamed up with
French Broad Adventures
. With every Carolina Mornings reservation, we offer our guests an opportunity to offset the cost of seasonal activities like whitewater rafting and ziplining by providing one adult trip per reservation for each of these activities. Read on for more information about these super fun activities!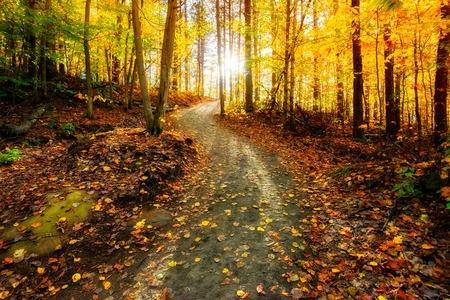 Ziplining
There are several adventure companies in the Western North Carolina region that offer zipline tours, and Carolina Mornings has teamed up with one of the best -
French Broad Adventures
. With 10 separate lines ranging in length from 75 - 1000 feet, their courses draws thousands of visitors to the area year after year. When you choose to take advantage of this popular area activity, you'll soar through the lush tree canopy so widely associated with our corner of the state. Fall is a spectacular time to experience the rush - the swirl of bright colors creates an unparalleled experience of beauty and wonder!
Whitewater Rafting
The French Broad River is the heart and soul of so many mountain communities in Western North Carolina - it's no wonder that rafting, kayaking, and tubing are such popular area attractions. Through our partnership with
French Broad Adventures
, we're able to offer our guests a chance to experience an exhilarating and liberating adventure on the French Broad. When you choose to spend a day on the rapids, you'll experience more than just a rush - you'll also learn the history of the river, basic paddling techniques, and river safety.
Mountain Biking
Mountain Biking is a hugely popular activity in Western North Carolina - and for good reason! We have the perfect landscape for the adrenaline seeking cyclists that travel to our area.
Bent Creek Experimental Forest
has over 10 miles of mountain biking trails of all skill levels, and it's located just a short 10 minute drive outside of Downtown Asheville. Tsali Recreation Area, nationally renowned for the mountain biking opportunities on its 40+ miles of trails, is also easily accessible from the Asheville Area.
Where to Stay
Staying in a home away from home in the mountains is key to fully enjoying all of these Western North Carolina summer activities. Having a comfortable, well appointed home base to which to return after a day of adventuring brings your vacation to the next level of special.
Carolina Mornings
has dozens of amazing homes in and around the Asheville area - each one unique and beautiful. Our dedicated and knowledgeable Vacation Planners will work with you to tailor the ultimate summer getaway that fits all of your needs. To learn more about renting a home in the mountains, contact Carolina Mornings at (844) 412-6881. Be sure to ask about our
Mountain Discovery Pass
, included with every Carolina Mornings Rental!