Winter Fun Planning Guide for Asheville, NC
Enjoying the Mountains of Western North Carolina all year long!
If you've never visited Asheville or the Blue Ridge mountains in the wintertime, allow us to show you how to do it in style! While summer and fall may be two of the most popular times to visit the region, winter provides a charm all its own - and is chock full of fun winter activities!
Things To Do:
Skiing/Tubing
Biltmore Estate
Hiking
Gingerbread House Competition
Mountain Biking
Craft Beer
Being Prepared for Winter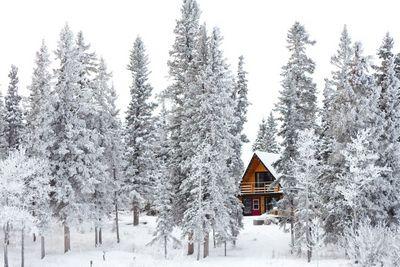 Skiing/Tubing
Asheville has multiple ski resorts located within a two hour drive, but our favorite is Wolf Ridge. (It's also the closest to Asheville!)
Located an easy 30 minutes north of downtown Asheville along the scenic I-26 interstate, Wolf Ridge and the surrounding area provide great skiing, snowboarding, and snow tubing. To make your ski vacation even better, Carolina Mornings rents 13 upscale cabins on the slopes of Wolf Ridge! Enjoy 70+ mile mountain views from the private hot tub on the back deck, unwind with a game of billiards or foosball, and stretch out after a great day of skiing in our large cabins which sleep between 6 and 12 each. Check out the Scenic Wolf cabin community for more info.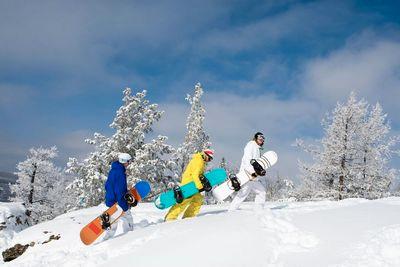 *Each reservation with Carolina Mornings receives one daily ski pass for Wolf Ridge, whether you stay on the slopes or in town! Click here for more info.
Biltmore Estate
One of the largest attractions in the region is the Biltmore Estate, and they don't close down for winter! In fact, their most popular event of the year runs November through December. Called the "Candlelight Tour," this special annual tour brings guests through the famous house after dusk while it is lit with candles and decorated for the holidays. The Biltmore knows how to bring Holiday Cheer in early winter, and the entire experience is magical.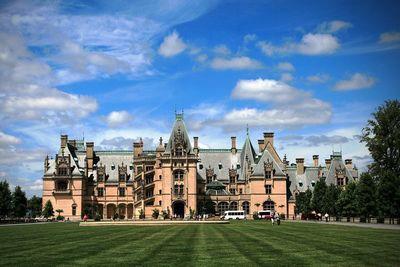 *Each reservation with Carolina Mornings receives one daily pass for the Biltmore Estate (Candlelight Tour not included). Click here for more info.

Hiking
Our winters are mild, with average temperatures ranging between 20 low and 50 high in January. This makes for wonderful day hikes during nice winter days! Dress in layers and you'll be comfortable on the trails all day. We do receive snow (which makes the mountains breathtakingly beautiful!) but not a lot, meaning access usually remains easy and the trails are accessible. It is worth noting that the Blue Ridge Parkway does close sections during inclement weather, so keep an eye on the weather when planning your hiking trips.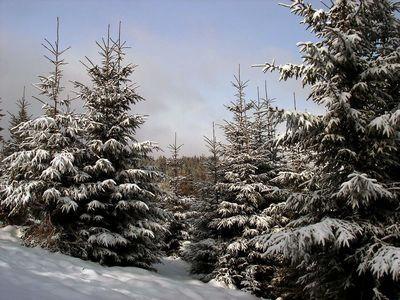 Some of our favorite winter hikes are:
Higgins Bald Gap Trail
Located in Burnsville, NC, The Higgins Bald Gap Trail is a 1.3 mile section of the Mountains to the Sea Trail and is rated as "moderate". Hikers can expect to see plenty of local flora and fauna as they pass through the breathtaking beauty of red spruce groves. To get to this hike from Downtown Burnsville, travel East on US 19E to Highway 80 South. Travel 11.6 miles on 80 South, passing the Mt. Mitchell Golf Course, then turn right on Forest Service Road 472. The road will turn to gravel before arriving at an intersection - take a right at this intersection. Follow the road until you reach a parking lot where you will see a bulletin board with trail maps and area information.

Lover's Leap Loop Trail
A moderate 1.6 mile trail, Lover's Leap Loop is a scenic, steadily climbing trail that ascends Lover's Leap Ridge in Hot Springs, NC. Panoramic views of the French Broad River and the town of Hot Springs make this a major attraction for hikers and visitors to the area. To access this trail from downtown Hot Springs, follow 25/70 East for .5 miles before turning left onto Silvermine Road. Take the first left to continue following Silvermine Road. Just past the bridge, you'll see a trailhead for the Silvermine trail. Continue walking down the road, passing the Silvermine Trail, and get on the Appalachian Trail, which is marked with white blazes. Once on the trail, markers indicating Lover's Loop will be easy to spot.
Waterrock Knob
Waterrock Knob is considered a must stop when driving along the Blue Ridge Parkway. Located just 18 miles from the end of the parkway at Milepost 451.2 in Maggie Valley, NC, it is the last hiking trail along the parkway before entering into Great Smoky Mountains National Park. Considered one of the best places in the North Carolina mountains to view a sunrise or a sunset. The trailhead is right next to the parking area and a short 1.2 mile roundtrip hike will take you to the summit. It is a steep climb, but worth the effort!
Gingerbread House Competition
The annual National Gingerbread House Competition is held at the Grove Park Inn in Asheville each year from mid-November until just after New Year's. You'll be amazed at some of the creations that we see each year, as the best of the best in the nation go head-to-head for the coveted first place award. This is a must-see for any trip to Asheville in November-December. While you're there, enjoy the historic beauty of the Grove Park Inn, one of our local landmarks!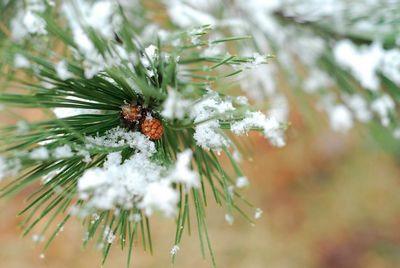 Mountain Biking
As with hiking, our mild winters means you can hit the single tracks all year long! Keep in mind the shorter days, and bring head lamps or plan to be off the trails by sun down. We have great mountain biking close to Asheville in the Bent Creek area, and even more options just an hour away in Pisgah National Forest. Dress in layers, and be mindful of ice on the trails. Also, please avoid riding after any major rain or snow-melt to help protect our tracks from damage. With sunny, clear days being the norm for Asheville winters, though, you're sure to welcome our clean and crisp mountain air during the hard climbs and thrilling downhill runs!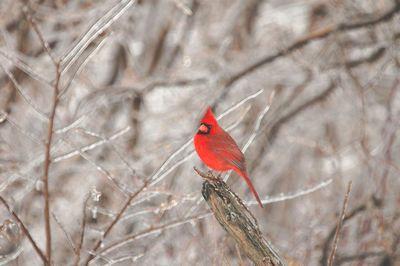 Craft Beer/Cocktails
Asheville is proud to called "Beer City, USA," and our selection of local craft breweries shows it! As the city heads into fall and winter, many of our breweries start producing their winter selections. These are often called "Seasonal" and "Winter Warmer" beers. Heartier, maltier beers that warm you from the inside out are the cherished beers of winter in the mountains! Of course, you can still find all of the normal staples such as IPA's, Pale Ales, ESB's, and the like, but beer enthusiasts look forward to the only time of year many of these darker beers are available. Come sample stouts, porters, barley wine's, and more to truly get the Beer City feeling.
If you're feeling truly adventurous, check out Wicked Weed's Funkatorium, or The Thirsty Monk's national selection of rotating winter taps! You'll be able to sample more types of beer in one winter weekend in Asheville than just about anywhere else in the country... and all within a few blocks downtown.
A new up-and-coming trend in the city is craft cocktails! These hand-crafted premium cocktails are also seasonal, so prepare for a little extra kick or some spice in your tittle while visiting Top of the Monk or The Social!
And of course, please drink responsibly!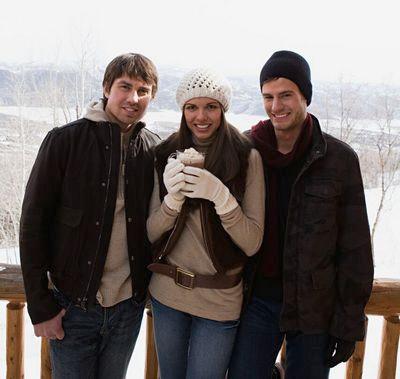 Being Prepared for Winter
Asheville and Western North Carolina remain accessible throughout winter, and our counties put a lot of effort in keeping the roads cleared and salted. However, winter events do happen, so a little bit of preparedness goes a long way! Common sense rules the day in most of these items, but we've learned it's better to share the advice with everyone to ensure no knowledge gaps are missed.
Due to the fact that it commonly gets below freezing at night and above freezing during the day, our roads have a tendency to develop ice overnight which melts rapidly in daylight. Even a light snow in the afternoon often will allow some of the snow to melt and re-freeze overnight, leaving patches of ice which look like snow. Drive carefully in the mornings and during all weather events.
While hiking is gorgeous during most winter days, the nights get cold quickly! Plan to be home before dark, and keep an eye on your cell phone reception as it can be spotty in the mountains. Make sure someone knows where you're headed and when you expect to return. Being lost on a trail overnight in the summer is an adventure. In the winter it's dangerous.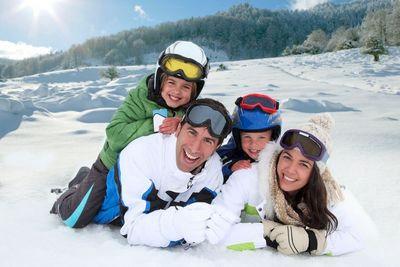 Please also consider travel insurance, available when you make your reservation. Weather events happen and can prevent access to or from your rental. It's wise to consider your options and to understand the risks of declining protection for your travel investment.
Some additional tips:
Keep warm clothes and jackets in your car, and dress in layers.
Try to keep your gas tank more than half-way full (both for weight, and to keep the heater running in an emergency).
If you have a 4WD or AWD vehicle as an option, bring it! If you have snow chains, bring them! If you have neither, keep an eye on the weather forecast.
If a winter storm is forecast during you stay, make sure you have bottled water and some snacks on hand in case the power goes out. Don't go out in the storm.
Plan to arrive in the daylight to your rental so you can learn the roads and home access.