State and National Parks Near Asheville, NC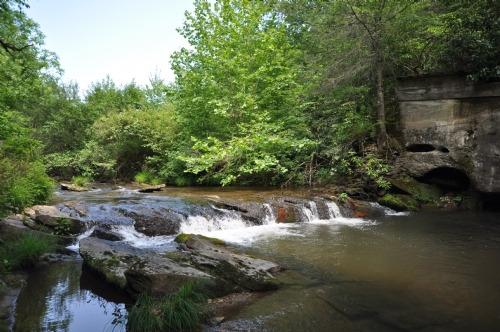 Asheville is an ideal hub from the mountains of North Carolina offering easy access to numerous state and national parks. Boasting some of the highest peaks in the eastern United States, the North Carolina mountains will delight you with endless gorgeous views and a variety of activities. There are easy hikes along winding rivers like North Mills River in the Pisgah National Forest, as well as challenging hikes that climb to rugged peaks like Mount Mitchell. If your perfect day in the mountains is fly fishing for rainbow trout in a peaceful stream or enjoying a family picnic with an unbeatable view, the Great Smoky Mountain National Park has dozens of ideal destinations. Below is just a sampling of what you can experience in and around the beautiful state and national parks of Western North Carolina.


Pisgah National Forest
Established over a century ago and encompassing more than a half million acres, Pisgah National Forest spreads across Western North Carolina, divided into four districts with Asheville at its center. Heading south on the Blue Ridge Parkway from Asheville, you'll come across the gorgeous NC Arboretum, a restaurant and picnic area atop Mount Pisgah, the majestic Looking Glass Rock (pictured), scenic waterfalls at Graveyard Fields, and The Cradle of Forestry.
Northwest of Asheville is The Appalachian Trail and adjoining trails that head out from Hot Springs, taking you along the gurgling river and up a mountainside to long-range views at Max Patch. Also north of Asheville is the expansive and rugged Linville Gorge, which offers many opportunities for outdoor adventures such as hiking, kayaking, and mountain biking. To figure out which direction you'll head in to explore Pisgah National Forest, visit the
USDA Forest Service
which breaks down the districts by which outdoor activity you're pursuing.
Blue Ridge Parkway


The Blue Ridge Parkway is a 469-mile paved road with astounding views, plentiful overlooks and picnic areas, and hundreds of trails. Enjoy a leisurely drive without stoplights or stop signs, commercial vehicles or billboards. Running right through Asheville, you can journey from Shenandoah National Park in Virginia to the Great Smoky Mountains National Park in Western North Carolina.
Whether you're driving south to Mount Pisgah or north to Craggy Gardens, stop off first at the
Blue Ridge Parkway Visitor Center, just eight miles east of downtown Asheville. The center offers a year-round interactive educational experience, along with maps, guides, and advice to help you plan your exploration. The Visitor Center is located at milepost 384, one mile south of the US 70 intersection (Tunnel Road), or one mile north of the US 74-A intersection. The Folk Art Center is two miles further north, housing a delightful collection of arts and crafts by local artisans, all available for purchase. Find out more on the Blue Ridge Heritage website.

Great Smoky Mountains National Park
Over a half million acres of land make up the Great Smoky Mountains National Park - the most visited national park in the U.S. Accessible by four entrances all within an hour of Asheville, the park has several distinct attributes that draw visitors including The Farm Museum (pictured), its designation as an International Biosphere Reserve and a World Heritage Site. The park has 100,000 different types of plants and animals, mountain peaks standing over 6,000 feet high, and more than 800 miles of trails. Historic homesteads can be found dating back to both the native Cherokee Tribe and the Scotch-Irish settlers.
Chimney Rock State Park
Chimney Rock State Park, most famously known as the site where the movie "The Last of the Mohicans" was filmed, is a popular outdoor attraction located 40 minutes southeast of Asheville. The park's 404-foot waterfall and 535-million-year-old monolith, which offers 75-mile views over nearby Lake Lure, and incredible overlook of Hickory Nut Gorge make this a terrific day trip. To get to the top of Chimney Rock, ride the 26-story elevator or get in shape climbing up 500 steps. Park activities include hiking trails with "discovery stations"along the way, rock-climbing clinics, bird-watching tours, fishing streams, and a restaurant where you can pick up sandwiches for a picnic.
Mount Mitchell State Park
Take the ultimate scenic cruise across mountain peaks and through changing terrain: An hour drive north from Asheville on the Blue Ridge Parkway brings you to Mount Mitchell State Park, the highest point east of the Mississippi at 6,684 feet. The park spans nearly 2,000 acres and offers visitors 360-degree views from the easily accessible observation deck at the mountain summit. Surrounded by breezy mists and suspended clouds, Mount Mitchell State Park includes a gift shop and restaurant that are open May through October, a picnic area with grills, and hiking trails for all levels of difficulty. Bring a jacket - You'll find it 10-30 degrees cooler up here than in Asheville!
DuPont State Forest
DuPont State Forest has received a lot of attention since the popular movie "The Hunger Games" was filmed there in 2011, but locals have known it as a favorite outdoor recreation area since its establishment in 1996. This 10,000-acre tract of dense woods and granite-domed mountaintops is located 40 miles southwest of Asheville, just past Brevard. A three-mile round-trip hike through DuPont State Forest takes you past Hooker Falls, High Falls, and Triple Falls (pictured), which was featured in "The Hunger Games." Stand at the base of 150-foot High Falls and you'll experience the exhilarating thrill of a waterfall's immeasurable power while cool mist sprays in your face. There are three additional waterfalls in the forest, and plentiful opportunities for swimming, fishing, picnicking, horseback riding, and mountain biking.
Where to stay during your mountain adventure?
Carolina Mornings wants to help you discover the beauty of the North Carolina mountains by providing a comfortable home base for your adventures. Offering dozens of luxury vacation rental cabins in the Asheville area, many of them pet-friendly, Carolina Mornings boosts the possibilities for outdoor exploration with the complimentary Mountain Discovery Pass, which is included with every rental.

The Mountain Discovery Pass includes great local attraction tickets with your stay! Depending on which season brings you to Asheville, you'll enjoy a Biltmore Estate pass, the slopes at Wolf Ridge Ski Resort and snow tubing, a thrilling rafting adventure with French Broad Rafting Expeditions, jumping around at Launch Trampoline park, or an adrenaline-pumping adventure at the Adventure Center of Asheville.

Call Carolina Mornings today to start planning the mountain adventure of a lifetime!