There's nothing like Mountain Biking in WNC, and Carolina Mornings puts you right in the action with Scenic Wolf Resort! Rent a cabin or home in Asheville and hit the trails!
The mountainous western part of North Carolina is a haven for outdoor recreation enthusiasts. Some of the highest peaks in the East, surrounded by vast areas of public land and miles and miles of trails, invite mountain bikers from all over the world. But even locals looking for a quick, easy ride find the area irresistible. Why take an expensive vacation thousands of miles away when a world-renowned outdoor playground is right next door?
Find the best mountain bike rides for you. There are dozens and dozens of trails available for mountain biking in Western North Carolina, but how do you piece them together into a good ride? The best rides represent many of Western North Carolina's not-to-miss routes. You can find the perfect ride for the time you have based on the trail's features and highlights, difficulty, and length.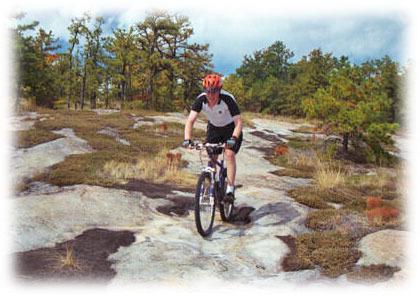 To find the best places to ride, explore Trailheads in larger areas where several trails are clustered. The best trailheads are usually within easy riding or driving distance around a central hub such as a resort, campground or parking area, within a river basin, or inside an isolated park.

For more information on Western NC mountain biking, please visit our Carolina Mornings Mountain Biking Guide. We also recommend: www.mtbikewnc.com
Photos by Jordan Mitchell