Scenic Wolf Resort - Mountain Biking
Mountain Bikers travel to Western North Carolina from all over the world to ride our trails. Our landscape is perfectly suited for the sport - gorgeous backdrops, steep, rocky trails, and meandering streams combine to offer cyclists unparalleled opportunities for adventure. Traveling to the area to have a mountain biking excursion? We've created an area guide just for you!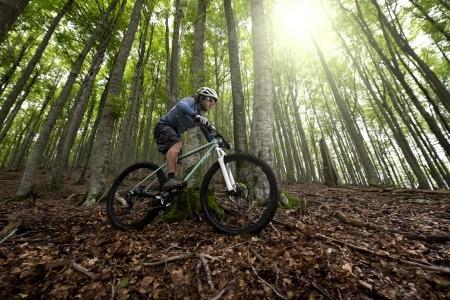 Popular Mountain Biking Areas
Thousands of acres of pristine forest in Western North Carolina bring adventure seekers and outdoor lovers to the area from far and wide. Mountain Biking is extremely popular in these parts - and for good reason! There are hundreds of trails from which to choose, and we've highlighted a few areas to check out below.
Bent Creek
Located near the
NC Arboretum
, just a few minutes from downtown,
Bent Creek
offers mountain bikers an opportunity to hit the trails without having to devote a ton of time to travel. The trails range in difficulty and type, making this is a great place for riders of all levels. Whether you're looking for easy, flat trails for a relaxing ride after work, or a trail with steep climbs and technical sections, Bent Creek is the perfect choice!
Dupont State Forest
DuPont State Forest
is one of the most beautiful forests in Western North Carolina! Located in Transylvania County, DuPont is home to hundreds of waterfalls - making this one of the most popular areas for riders looking to experience beauty like no other. Best of all, with over 86 miles of trail for riders to experience, there is something for everyone - no matter the skill or technical level!
Pisgah National Forest
The Pisgah National Forest
covers a huge swath of Western North Carolina. Made up of over 500,000 acres, the forest is split into three Ranger Districts - the Appalachian District, the Pisgah District, and the Grandfather District. The Pisgah District is tremendously popular with cyclists who choose to make Asheville their home base, as trail heads are accessible from all over our area.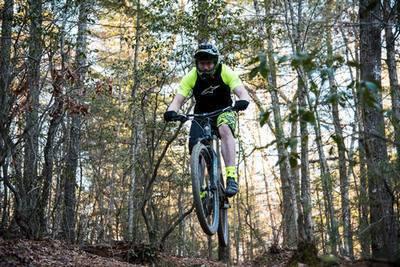 Kitsuma Mountain
Riding the
Kitsuma Trail
, located in Black Mountain, NC, is a must-have experience for all cyclers that visit our gorgeous corner of the state! A loop trail through Pisgah National Forest, Kitsuma Mountain features a 12 switchback climb at the beginning and an exhilarating (some even say legendary) 2.8 mile downhill ride at the end. Full disclosure: the end of the Kitsuma Trail leaves you approximately 5 miles from the trail head, and requires an uphill ride back to your car. An alternate is to leave a car at the base of the trail to shuttle back to the trail head. See our turn-by-turn directions, including a full length video by
Clicking Here
!
Local Bike Parks
Seeking a planned mountain biking experience? Look no further than the Bike Parks in the Asheville area! Thoughtful, exhilarating, and well executed trails await you at any of the parks spotlighted below.

Kolo Bike Park
Kolo Bike Park
is a part of the Asheville Adventure Center, and it serves cyclers of all ages and skill levels. Composed of about 4 miles of mountain bike trails winding over a rolling terrain, this park has a little bit of something for everyone! Pump tracks, a hand built singletrack in a wooded space, a machine built flow trail with dirt berms and rollers, a dirt jump area, and so much more awaits you at this fantastic area resource.
Kolo Bike Park is ideal for beginners.
Bailey Mountain Bike Park
Located in Mars Hill, NC - just a 20 minute drive from the larger community of Asheville -
Bailey Mountain Bike Park
is a gravity-specific bike park. In other words, if you're interested in the type of mountain biking that focuses on steep, downhill, rough terrain, then this is the park for you. The park boasts over 1000 vertical feet of elevation and a stunning Southeastern landscape - perfect for adrenaline hounds and nature lovers alike!
Bailey Mountain Bike Park is an advanced-rider bike park.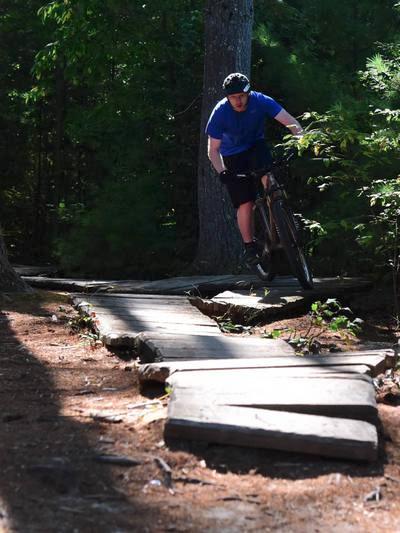 Recommended Local Bike Shops
Whether you're looking for local suggestions or top of the line gear, our local bike shops have you covered. Community oriented and full of knowledge, the following local businesses work hard to support the outdoor sport industry in Asheville.

Billy Goat Bikes
Billy Goat Bikes
, located right around the corner from Bent Creek, is a one stop shop for mountain bikers. They carry the full range of gear - whether you're interested in downhill, trail, road bikes, or XC, they have you covered with bikes produced by the top manufacturers in the field. Best of all, Billy Goat Bikes has an ever rotating selection of demo bikes. Not sure about what you want? Take a test ride before committing to a purchase!
Motion Makers
Motion Makers
is a fantastic area resource for cyclists of all types. With locations in both Asheville and Sylva, this specialty bike store has you covered for all of your gear needs. Like a true community centered business, Motion Makers doesn't just sell the best products in the industry, they also seek to educate locals and visitors. Visit their website or stop into one of the store locations for information on local trails and parks, guides to buying road bikes or mountain bikes, and notices about upcoming events.
Asheville Bicycle Company
Asheville Bicycle Company
is more than a bike shop - it's a community resource for cyclists looking to learn about the sport, the area, and the available programs. This company is the largest service center in Western North Carolina, and the representatives within the shop take that very seriously. Located on Merrimon Avenue, Asheville Bicycle Company is convenient to both the local bike parks and the best of the area trails.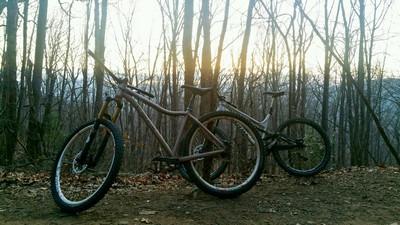 The Hub
Located just outside the entrance to the Pisgah National Forest,
The Hub
is conveniently positioned to many of the area's very best trails. A community driven company, The Hub is more than an outfitter - it's a hub of knowledge and that information share serves locals and visitors alike.
Staff Recommended Rides
When visiting a new area to check out the trails, it's easy to feel overwhelmed if you don't know where to start, where to turn, and what to expect from each trail. One of the best ways to explore a new area is by visiting the local bike shops and asking for recommendations. We're also happy to provide the following list of our staff recommended rides, to get you out and enjoying the trails even more quickly!
Basin Loop at Bent Creek
Bent Creek is one of our favorites because it is so accessible to Asheville, and it provides a wide array of trails at varying levels of difficulty! The "Basin Loop" is an easy-level, 7.5 mile loop that takes you through a great sampling of what Bent Creek has to offer. Comprised of numerous smaller segments, this fun string of trails stays off the steep trails, instead taking you through a lot of short climbs, followed by short (but fun!) downhill sections. If your endurance isn't up to miles-long uphill grinds, this is a great place to start.
Turn-by-turn directions, and a full-length video of the Basin Loop can be found by
Clicking Here
!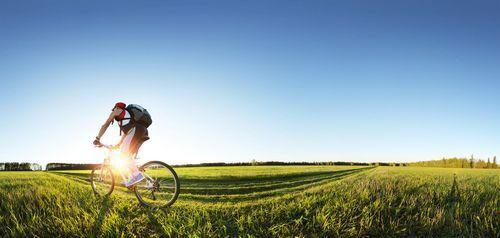 Kitsuma Peak Trail
Kitsuma is a more advanced trail near Asheville in beautiful Black Mountain, NC. Involving an epic climb at the beginning (850 ft over 3/4 of a mile), you'll be rewarded with views and thrills as you ride along the two ridge-tops until the long 1,500 foot drop over the last 2.8 miles! This is a one-way trail of 5 miles that leaves you with the option to shuttle back to the top, or double the ride by biking the 5 miles back to the trail head on surface streets.
Turn-by-turn directions, and a full-length video of the Kitsuma Peak trail can be found by
Clicking Here
!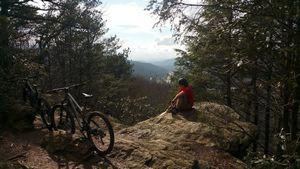 Where to Stay

Renting a vacation home through Carolina Mornings is the first step to planning a truly memorable adventure in the mountains. With rentals situated all over Western North Carolina, we're confident that you'll find precisely what you're looking for in a cabin rental! To begin the process of planning your ultimate mountain excursion, contact one of our dedicated and knowledgeable Vacation Planners. They'll work with you to find the perfect home and to help tailor a vacation that fits all of your needs. To learn more about renting your first cabin in the area, contact Carolina Mornings at (844) 412-6881. Be sure to ask about our Mountain Discovery Pass, included with every Carolina Mornings Rental!